The Queen asked to see my tea collection. Although there are a few things missing, this is the bulk of it. (Click the picture to enlarge.)




This is technically a salt celler, but I use it for sugar - works perfectly!

This is my highly prized, brough it back from England myself, tea from Fortnum & Mason.

An ADORABLE little tea set I got from Christmas from my mom/Gabriella

One of various tea strainers I have - I never use those anymore.

A pair of tongs just right for sugar cubes.

This is one of my "tea" spoons. (I have four.) See the little tea pot on the end?

My Australian Press - highly recommended!

One of my tea pots - this one Bubblehead gave me several years ago.

This is a tea caddy I got from a secret pal a few years ago. It is perfect for storing tea bags.

Another tea strainer - isn't that little tea cup bobble cute?

This is Gabriella's tea, although I've been known to drink it once and a while. It's made by Republic of Tea just for kids - StrawCherry Cha Cha Tea. (It doesn't look like they make it anymore. It has been replaced by their Panda Berry Tea for kids.)

Another tea pot - I call it my bottomless tea pot, because it holds so much, I never seem to be able to finish off a pot! My mom gave me this one.

This is Adagio's Assam Melody, part of my free sample for posting a link to them here. This is a wonderful tea, and arrives already packed in a tin! I've been very impressed with Adagio, and will definately order from them!

This is the other part of my free sample (awesome sample!). It is the IngenuiTEA. It works just like the Australian Press. I prefer this one slightly because the lid is attatched, and this one is microwavable. (Although *I* would never microwave my tea! :)

This is Sip for the Cure tea (called so because some of the proceeds from this tea go to breast cancer research), from Republic of Tea. It is a lovely green tea, with pink grapefruit. Not my daily cuppa, but a very nice, refreshing tea.

Seattle Breakfast tea, a staple in my tea cabinet.

Classic Irish Breakfast, another of my favorites.

Emerald Blossom Jasmine tea, a must with Chinese food!

Assam tea.

These are a couple traveler's tins, from Republic of Tea. (These two happen to be Kiwi Pear green tea, and Mango Ceylon tea.) I don't drink flavored teas often, so I usually buy them in small quantities like this.

Another little tea caddy, for offering tea bags to guests.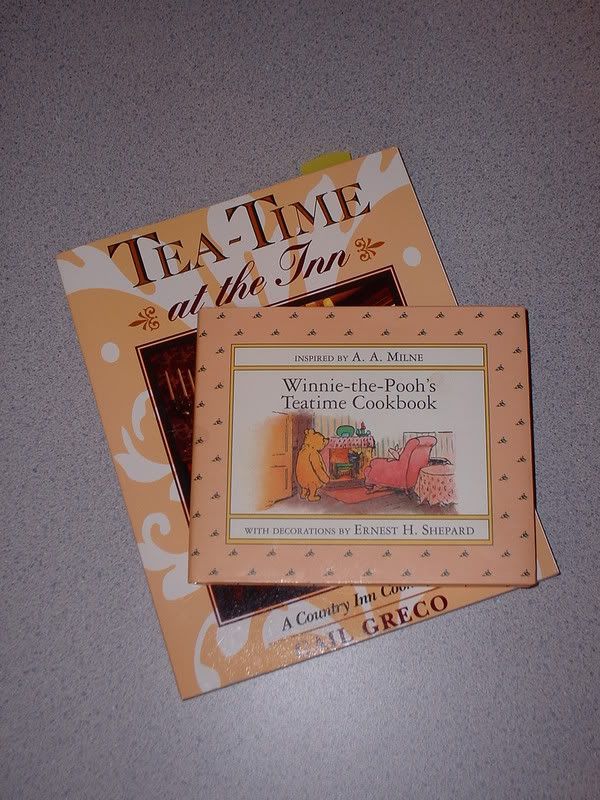 These are my two tea-related books. They contain recipes, and information. All of the more "technical" information I've learned I've gotten from the internet.

More requested photos to come....